HOOPS/CANVAS
"TILT CANOPY" or "Tarpaulin"
Available as an option from VW for all years, a complete tilt setup cost $85 new. All years had the same canvas and hoops (SC/DC respectively) until 1968 when they lengthened the truck bed, and so a Post 67 version was available with lengthened wood for the hoops and a longer canvas.
The hoops always stuck up higher then the roof, any roof level tilt's that you see are custom made.
There was also a special wide bed hoop/canvas version. M-code and specs for that are unknown.
---
(**canvas info is at bottom of page**)

HOOP INFO


DG enterprise has geared back up to make hoops for the public. These are almost identical to the original style, with the only thing missing being the rubber bumpers. Visit his website for more info-
http://www.dgcreations.com/
Middle Strap

This strap was used on Single cab hoops only. Approx 1 1/4" wide, 1/8" thick. Has 6 holes drilled across it, and they're all countersunk. Attaches across top of hoops in the middle with countersunk wood screws to essentially hold the wood strips in line and reduce flex. Parts manual shows 5x20 countersunk wood screws for this application. Also there were caps on the end of the strap (like a plastic sleeve) that was to help protect the canvas from being ripped by the strap.
(2 left pics shown are in actual size for tracing purposes)

End caps

Located on top of each end hoop above the wood slats, these are 1/8' thick. They have a 45 degree radius bend when viewed at a cross-section, as well as a compound curve to match the contour of the main hoops. Has 6 countersunk holes drilled in it to screw up to the wood slats. Parts manual shows 6x35 countersunk screws to attach the cap plus lock washers with nuts.

Rubber bumpers

2 of these were Riveted with 6x15 rivets onto the rear hoops, and served as "bumpers" to protect the hoop from the side gates slamming into it and to cut down on vibrations. Also to eliminate hoops swaying in the rear. There were reinforcement plates on the backside of the hoop as seen in the pics, which the rivet went thru.

Wood for hoops

new repop
saggy og

Both SC and DC slats are 1-3/4" wide and 3/4"thick.

The slats are technically .1 inches longer then the bed for both models.
For SC: Approx 102.5 inches long, (8' 6.5")
For DC: approx 69.2 inches long

The ends are curved with a 45 degree radius bend, to allow the end cap to fit over the top of it and form a nice round corner. In time your hoop wood will sag, so it is advisable to sand dual 45 degree curves on the ends of your wood strips so you can rotate and flip them over often.

Hoops

Approx 1/8" thick, these were bent from U channel stock. After they were bent into a hoop shape, they were cut in 2 places and sent to the dealer to be re-welded up. Made for easier shipping. None of the holes are countersunk.

Custom hoops/Canvas
Many people try different things...


Rachel's roof level canvas

Gareths roof level canvas he made,

Heres one made with the stretchy sunbrella material, custom low profile height
CANVAS INFO
Stitching color
On original canvases, you will see a color stitch running across the bottom. I have seen blue, green and red. Also there is tan which matches the canvas, but you have to look closely to see the slightly different shade of tan imbedded in the fabric.
This is called a "selvage stitch" that is part of the fabric when its made, rather then an actual stitch applied afterward. It signifies that it is the 'edge' of the fabric. Meaningless to your or me, but a good way to help identify an original canvas, since only german fabric was done that way.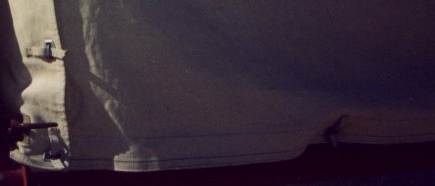 (blue stitch)
Hardware
The eyelets used on the canvas were all made of aluminum which is no longer made.
It has come to my attention that VW 'thing's use the same loops and grommets as a truck canvas does (pictured below as A and B). I am currently looking into this and have seen a 'thing' up close. This is in fact true. The best part is, it is rumored that these loops and grommets are still available from the factory as well as lots of 'thing' shops carry this hardware which is used for the convertible tops. More details to follow.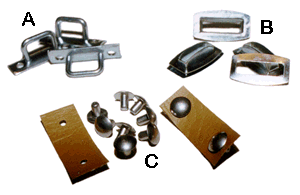 The swissarmy website did have a diagram showing all the OEM parts for your canvas that you can order. They took the specific page down so you'll have to email them to ask. It was parts for a 'Pinzgauer' but made by the same company. swissarmyvehicles.com is unaware that they are the same for the VW canvas, so you'll have to discuss it with them so they know what your talking about.
http://www.swissarmyvehicles.com
Reproduction company's

Here's an original NOS one from the VW factory, man it was nice.


Busware ©

Update 2006
DC & SC original style canvas canopies for sale. $800 DC, $850 SC, or $150 more for sunbrella. # 8 duck canvas like OG canopies, OEM German grommets/eye hooks, reproduction stainless steel gutter "J" clips, canvas stay hooks, etc. Patterned off a OG canvas for great fit, professionally made, reasonable price, quickly available, yada, yada, yada! Now being made with tan webbing instead of green!
Tom Buese
Busware
tbuese@busware.biz
Tel. 801-521-3335
Salt Lake City, Utah, USA


---

Here is a Busware DC tilt mounted on a binz. It was ordered as a DC canopy not a binz canopy, but still fit pretty good.


Update Dec 04* PLF is no longer making the canvas. Below are pictures of one I bought.


New Tilt Maker!
SS upholstery

UPDATE**May 2002. 'SS upholstery' has decided to not to continue making tilt canopy's.

A recommendation from Jerry Jess

I picked up my 1960DC with the new Canopy--It is VWonderful and a great price- I took the DC to a place in Phoenix called Apache Awning 602-273-0254. Owners name is Einar, and he likes VWs and is a very cool biker,--he finished the job in less then a week--And it was under $500--No, it is not 100% correct! But I like it, and it is the finest material available I think - It is made out of the "sunbrella" material--If you want a great deal and live near Phoenix, give Einar a call, and talk to him about a Canopy, Single or Double cab style.


Here are some pics and approx dimensions for those of you who claim to want to make your own...good luck!
more pics or dimensions available on request
*Click pics for larger image*
An original for sale a while back

This og canvas was purchased with the singlecab back in 1958

another original