1962 SO-33 Subhatch Westfalia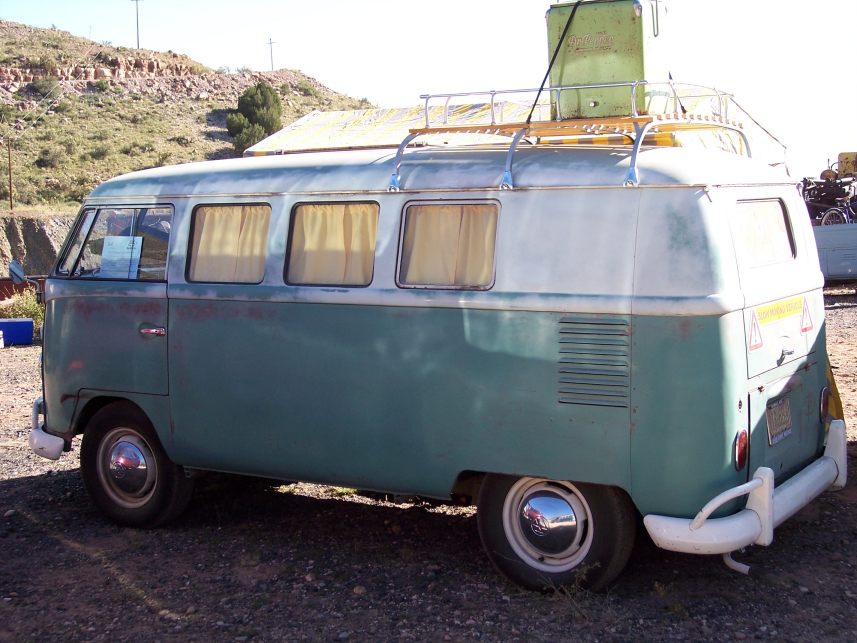 I found this Westy for $700 on a road trip when I was out looking for buses. My friends wife said it couldn't be done. She scoffed at me when I told her we are going "looking for buses" on the way to our destination. In her world you can't just "find" buses on the side of the road, that just didn't happen. But sure enough, eventually I hit the gold mine. This was the first bus of many I found on that trip and it was exactly what I was looking for, a subhatch westy. This bus had been left for dead in a junkyard. Someone had painted the lower portion red and then painted over that with thick grey house paint at some other point. Then they had come back again and started painting it red once more! The transmission, engine and gas heater were nowhere to be found, it was sitting on blocks. Interesting note about this bus, is it was built the last month (june) before all the late 60's changes took effect. It still has the flat wheel wells, humpback seat, etc.
To learn more about the SO33 models, go here
Specs
VIN 957602 , Kombi, loading doors right. Built on June 12th, left factory on June 15th. Paint SK1023 Turkis/Blau weiss
Mcodes
025
Seat belts (has all factory front seat mounting points) Cabin only
056
Steering wheel lock/ignition (still present)
119
Eberspacher heater (some parts still present)
121
Ambulance fan (This bus appears to have the original paint overhead vent plate and it is not an ambo fan?)
139
Sealed beam headlamps and red rear lamp lenses
168
88 amp hour battery
181
Chrome hubcaps
372
North American equipment
Includes 2 popouts
Parts needed, Cash waiting

Cargo door cabinet (hubcap clip style as shown)
Will consider a so34 white laminate style because I have a trade lined up to get the one I need.

White square ice holder for icebox tray

Water jugs (any style considered)


Enders stove 9065D

Wash Basin "Mauser Stratoplast" (any color)


Chandelier- Any color (prefer yellow)

Long bungee clip (2)
Sisal rug
Faux wood panels for cargo door
Sigla stationary windows (need 2)
Progress
Feb 07
Redoing the headliner.
Replaced rotten bow and Installed new hatch seal.
oct-dec 06
Currently my daily driver
Sep 06
Made it! Took it to its first show, Jerome jamboree 06. Back on the road after 20+ years.

Found a working 6v BN4 at Jerome. This westy has all other necessary components still installed.

Aug 06
installed trans and engine
rebuilt both window assy's
Installed interior, curtains, rods, etc
July 06
Sourced westy material as close as I could find, thanks John
June 06
Jerome countdown has begun!
Mar/may 06
Removed cabinets and stripped/cleaned.
Feb 06
Located 2 real nice slash end bumpers, thanks tony!
Oct 05
Went through the wiring. Appears to be nice and intact so all connections were cleaned and reinstalled.
Sep 05
One of the previous owners had installed a restored gas tank. It was a pre 62 tank so I switched it out for a 62/later sending unit tank.
Found original upholstery humpback front seat.
Aug 05
Rebuilt all brakes with german components, new steering dampner, new shocks all the way around.
Rebuilt swing lever assembly.
July 05
Sourcing westy parts and etc. Speedometer rebuilt by Orange County Speedometer.
June 05
Stripped down primer and house paint to reveal the original SK1023 paint, Turkis / Blau weiss

Found remnants of a USA sticker on the decklid. This was a non export German bus, so the USA sticker was most likely applied by a military person back in the day before it was shipped over.

April 2005
This westy has ties to Arizona since back in the 60's. Last registered in AZ in 76. Gas heater is missing although all the other components of it are still there; switch, bowden cable tube, router channel, ducting, etc. I found this westy by driving less traveled routes on the way to shows. When I came across it, it had no engine or transmission. Sitting on wood blocks out in the desert barely holding on to life. Interior was sparse and it had 3 coats of house paint on it; red, grey, and someone had started in with the red again. After I bought it and it was safe and sound, I hunted down the second owner still living in Tucson (retired politician) who had bought it in 1965 from the original owner in Tucson. He then owned it for 20 years until 85 when he sold it to an unknown person who never registered it. He said when he bought it, it was "run down" already in 65, and that it had a full grey/yellow tent. He is in his 60's now and it seemed hard for him to recall much details, but he did tell me he drove it across the country once to PA which is where all the decals came from that he stuck on the body (?) next to the rear quarter panel. (not visible in pics). He couldn't remember any of the other accessories. He didn't have any family or wife so he made it sound like old pictures are out of the question. He said he has the info of the guy he bought it off of originally, so I am still waiting for that. But sometime after he sold it, it must have only been driven for a year until the tags ran out and it made its way to a junkyard.